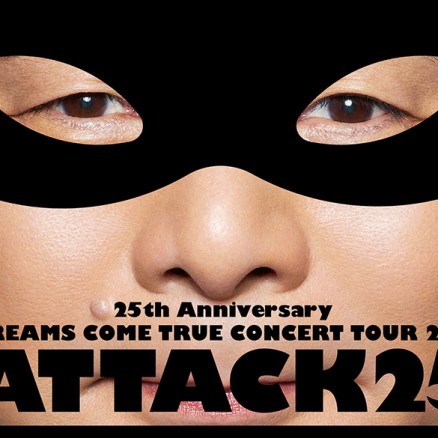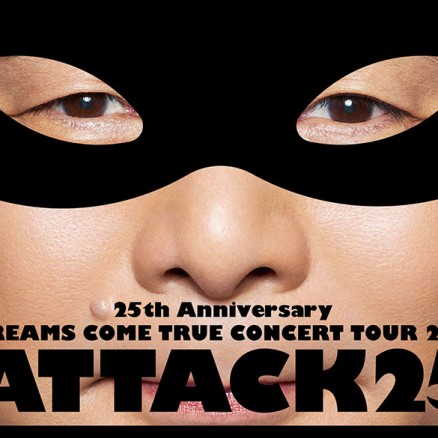 Release date:

2015-07-07
Label:

Universal
Catalog #:

UMBK-9292
Region: ALL
Where to Buy
25th Anniversary Dreams Come True Concert Tour 2014 – ATTACK 25 (Limited DVD Edition)
Dreams Come True Regular Concert DVDs & Blu-rays
---
1

OPEN SESAME + Eizou (Reflection) 1

2

APPROACH

3

IT'S TOO LATE

4

MADE OF GOLD -featuring DABADA-

5

Aishite waratte ureshikute namidashite

6

Kono machi de

7

Sore demo koi wa eien

8

Anata ni aitakute

9

Kanashii Kiss

10

Eizou (Reflection) 2

11

THE CHANCE TO ATTACK WITH MUSIC

12

ONE LAST DANCE, STILL IN A TRANCE

13

I WAS BORN READY!!

14

Kiseki to kiseki

15

MORE LIKE LAUGHABLE

16

Anata ni salad igai mo

17

MONKEY GIRL - Zantetsuken - (Zantetsuken no zan wa zange no zan)

18

FALL FALLS

19

Ai ga tadoritsuku basho

20

Sozo o koeru ashita e

21

MY TIME TO SHINE

22

Saa kane wo narase

23

AGAIN
Encore
24

Hai! Hai! Hai! Hai! / Koi no wana shikakemasho ~FUNK THE PEANUTS no Theme~

25

Sankyu

26

HAPPY HAPPY BIRTHDAY - 2014 Party Mix -
---
"LIVE with YOU" ~ The 25th anniversary live on SPACE SHOWER TV ~ concert DVD
1

OPEN SESAME

2

APPROACH

3

Anata ni aitakute

4

Kanashii Kiss

5

ONE LAST DANCE, STILL IN A TRANCE

6

Anata ni salad igai mo

7

AGAIN

8

Saa kane wo narase

9

Ai ga tadoritsuku basho

10

LOVE LOVE LOVE
---
This release of for their ATTACK25 concert series to support the album release of the same name!
This limited release version comes with an extra disc of their "LIVE with YOU" ~ The 25th anniversary live on SPACE SHOWER TV ~ concert, a 48 page photo book, and a special digi-pak package.
The release also has it's own special website!