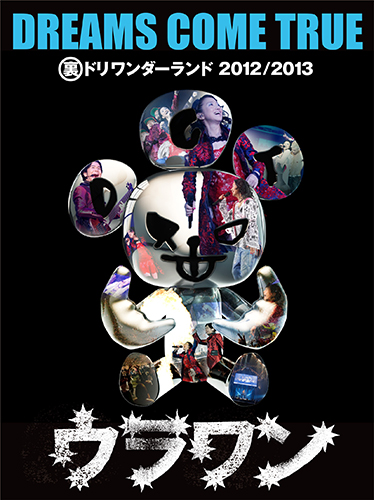 Release date:

2013-06-19
Label:

Universal
Catalog #:

UMBK-1200/1201
Region: ALL
Where to buy?
Ura Dori Wonderland 2012/2013 (Regular DVD Edition)
Dreams Come True Wonderland Concerts DVDs & Blu-rays
---
1

A theme of the WONDERLAND STH1 Boss - Masa Demo version -

2

SWEET REVENGE

3

Arashi ga kuru

4

Don't You Say...

5

Tokyo ATLAS

6

Tatakai no Hibuta

7

Bye Bye

8

Futari no DIFFERENCE

9

Namida to Tatakatteru

10

Aishiteru Aishiteta

11

Yume de atteru kara

12

Sechunakute ~Ohouchuku ni tatazumu torein~

13

Chinbotsusen no Monkey Girl

14

Monkey Girl Gouka Kyakusen no Tabi

15

Ura Dori MEDLEY

16

LIES, LIES

17

SPOON ME, BABY ME

18

i think you do

19

Ai ga Tadoritsuku Basho

20

Sozo o koeru ashita e

21

SNOW DANCE

22

Tsuretette Tsuretette

23

WINTER SONG ~DANCING SNOWFLAKES VERSION~

24

ENCORE: Aishite Waratte Ureshikute Namidashite

25

ENCORE: Nando demo

26

ENCORE: MY TIME TO SHINE
---
This release of the the special Ura Dori Wonderland concert series where the band performed many lesser known (yet still popular) songs from their catalog that usually don't get performed at regular Wonderland concerts.
The concert was performed on a 360 degree circular stage to over 300,000 fans throughout Japan. The concert is shown fully uncut (with the exception of the encore wait), including the MC and all between songs talk!
The release also has it's own special website!