Subtitle: After 10 years of success at home, Japanese pop band Dreams Come True is trying to make a go of it in America.
August 31, 1998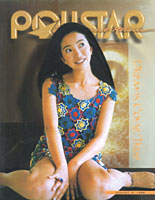 DCT has established itself as Japan's flagship superstar pop music act with nine albums on Sony Japan and almost 25 million in album sales.
Now, the band's care — producer/bassist and all-around DCT mastermind Masato "King Masa" Nakamura and lead singer Miwa Yoshida — has moved to the U.S. and signed a record deal with Virgin America. Together, they are trying to make their dreams come true again — American style.
Masa was already an established session musician in Japan when he met Miwa a little more than 10 years ago. "At that time, I already had a 10-year career as a professional," Masa told POLLSTAR. "And one day, I met Miwa at a job in a small club and she was singing there."
Masa said he was surprised by Miwa's vocal ability. "At that time, she was an amateur but already she had a great voice. She was singing classic pop music, pop standards."
Masa asked Miwa if she had a demo tape. She didn't have a demo but informed the musician that she had penned 200 original songs. "I was very surprised," Masa said. "I couldn't believe it, you know."
Miwa sang two songs for Masa and he was floored. "It was so impressive, I was shocked because I have been believing I was No. 1 in Japan," he said while chuckling. "What a stupid guy."
Masa knew a good thing when he heard it and immediately asked Miwa to sing for his band. The two, along with a third bandmate, keyboardist Takahiro Nishikawa, formed DCT and have been a force to be reckoned with since then.
In the 10 years since Miwa and Masa met, Dreams Come True has grown to be a stadium-level concert act in Japan. However, in the U.S., the band is just getting its start.
After signing with Virgin America, Masa, who defines himself as a music businessman as well as a performer, realized American representation was essential. "We are just amateurs in America, so we should learn from professionals," he said.
Masa pointed out that it is very difficult for Japanese pop bands to break in the U.S. because there are so many great musical acts already working here. "So, there is a very, very small place for us," he said. "But also, it's a challenge."
In order to meet that challenge, Masa has spent years studying the American Music Business. He said some artists don't like to call themselves "businessmen" but he doesn't shy away from the moniker. Masa said whenever the band faces a new challenge, he reads all available books and magazines on the subject in order to be as knowledgeable as possible. "Also, I've had many opportunities to have conversations with American musicians, American producers and British producers while we're doing our recording [over the past] 10 years…. I've been asking them about business, otherwise we can't get the information from them."
The music business is changing, he said. "An artist who has the ability to do management or producing is a very necessary element…. Sometimes there are hard negotiations with management and with record companies but if we know the business, we can find a way without fighting."
Masa said the way a band develops in Japan is similar to the club, theatre, arena progression in the U.S. In fact, much of the pop-rock culture in Japan comes from America. The only major difference right now is that in Japan, DCT plays to 50,000 people at a time. Here, it's more like 800 fans at a club.
The band recently wrapped up six club dates in major North American markets. A spokesperson for the Paradise Club in Boston said fans were lined up around the block to purchase DCT tickets the minute they went on sale.
Masa said all six shows did very well with both Japanese and American fans showing a lot of enthusiasm. "They're great," he said of U.S. audiences. "Of course, there are many Japanese Americans or Japanese residents in America so the reaction is very, very good…. But I can see American audiences also and their reaction is very, very good. They're very excited and shouting and some of them know our music already. They're singing with us. I don't know why, but it's a great sign for us."
Masa hopes DCT will have more opportunities to tour North America. He said future tour plans depend on the reaction to the band's first club tour. All six shows — Vancouver, San Francisco, Los Angeles, Washington, D.C., New York and Boston — sold out, indicating that Masa's hopes may soon be fulfilled.
When asked how it feels to be the most successful pop band in the history of Japan, Masa remained humble. "We never think so because we are still on the way to our dream," he said. "We are very happy, but in America, my dream is to show our music to the world…. This is the purpose as a producer and a music businessman. It's not just for money. It's for our dream."